South King Media is a fast-growing, award-winning network of six locally-grown and operated "Local Blog"-style community news websites that cover six cities with over 142,000 residents – White Center, Burien, Normandy Park, Des Moines, SeaTac and Tukwila, WA.
Our sites are produced by experienced, award-winning professional Journalists, Writers and Photographers (The B-Town Blog was recently named "Best Hyperlocal Website" by the Society of Professional Journalists), who report on local news, events, arts, entertainment, business news, crime, politics, feature stories, photos, videos, and launching 2/15/12 – radio – for all of our communities.
We're proud to say that not only are our blogs 100% independent, locally-grown and operated, we are also the most-read, most-updated, locally-focused and affordable Advertising solution for your marketing needs in the South King County area. Not only have we quickly grown into the leading news source for the area, we also have the most active online social media network, with popular Facebook Pages and Twitter Feeds for each website.
And we have many Advertising solutions for businesses that are looking to get themselves in front of the eyeballs of our ~50-75,000 active and engaged monthly Readers, starting for less than $2 per day!
We encourage you to email us for our latest Media Kit which includes info on combination network ad buys or for individual blogs. Or call us directly at (206) 248-2565 and we'll meet with you and show you our innovative and affordable solutions in person.
We recently launched a Local Coupon Page on The B-Town Blog, where Advertisers can put their offers up for Readers to print and use; these are very effective solutions which are trackable. Plus, everyone loves getting a great deal!
ABOUT US
South King Media was Founded by Scott Schaefer, a three-time National Emmy Award winning Writer for "Bill Nye the Science Guy" (PBS/Disney) with over 25 years' media experience in Seattle (starting at KING-TV's "Almost Live!") and Hollywood ("The Arsenio Hall Show," "America's Funniest People," Fox On-Air Promotions & many others), as well as a passion for educating and entertaining viewers.
A former Journalism major with many years of news experience as a Reporter and Photographer, Schaefer has been active in the online world since 1985. He built and launched his first website in 1996, and has since taught himself WordPress, Photoshop, Dreamweaver, Final Cut Pro and many other media tools that, when put together with his award-winning writing skills, allows him to update websites faster than any traditional media outlet can.
SEE US? WE'RE TRANSPARENT!
Unlike other news media outlets and blogs, we are fully transparent about our traffic statistics. Our "traffic transparency" policy means that, at any time, you can click on statistics links in the footer of the website (at the bottom of any page), and see what kind of traffic we're getting – totally live, uncensored and independently monitored!
Click on a logo below to see live stats for our B-Town Blog site (keep in mind that statistics vary with each independent measuring company, something that's not in our control):

WHEN YOU BUY AN AD, YOU BECOME PART OF OUR INNOVATIVE SOCIAL NETWORK
Whenever we take on a new Advertiser, a couple of great, innovative and effective marketing techniques happen that help spread your word and set us apart from most other websites:
We post a "Blogvertorial" feature story about your business. This appears in the regular Headline content section along with other regular stories, and includes keywords and information relevant to your business. This helps dramatically increase your Google presence online. For examples of some previous Blogvertorials, click here.
We update our Facebook Page(s). Shortly after a story goes live on our site, another posting appears on our Facebook Page. We then "Like" our own post, which then sends out a second viral update to all our Fans and Friends. Facebook has become the best referral website for traffic to our blogs aside from organic Google search results.
We send out a "Tweet" from our Twitter Page(s) to our "Followers" (follow us here). Oftentimes our Tweets get re-tweeted by others, driving even more traffic.
MORE THAN JUST LOCAL WEBSITES

South King Media also strives to serve and help its community, and we're confident we're the most-involved local media outlet in the entire area!
Here's a list of just some of the fundraisers we've been involved with since our inception:
We've served as Media Sponsors for many local fundraisers, including the annual Cove To Clover, Brat Trot, Highline Medical Center Foundations' Hats On For Highline, Highline Schools Foundation for Excellence's Gold Star Awards and Oktoberfest, and many more.
In July 2008, we co-sponsored a major auction fundraiser for the victims of the tragic June 29th apartment arson fire, and helped raise $10,500 in one night.
In August 2008, we held a fundraiser Blog Party for the Highline and White Center Food Banks, and netted 166 separate food donations and $280 in cash to help feed needy area families.
Every November, we sponsor "Turkeys N'Diapers," a fundraiser for both the White Center Food Bank and WestsideBaby, where over two years we've raised nearly $2,000.
In December 2009, we held our first annual "Have A Heart" party, where we raised nearly $600 for the Highline Area Food Bank!
Within 3-1/2 years of launching, we've helped raise over $169,000 for our communities!
We also have done numerous in-person appearances at, and are the "official blog" for:
Some of our Advertisers have included:
WE ADVERTISE TOO!
By signing on with The B-Town Blog, you're also going to benefit from our own Advertising, which will result in more relevant eyeballs seeing your Ad.
Here's an example Video Ad we produced that ran locally on CNN in Comcast's "Burien Zone":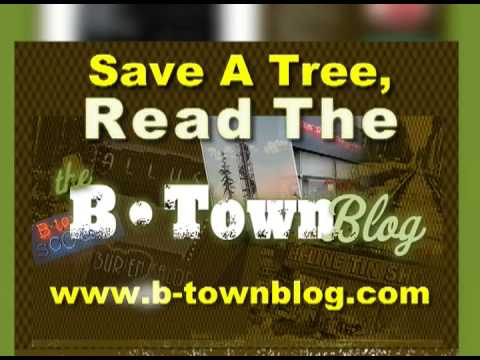 Want to talk about how you can grow your business by doing highly-targeted advertising to an affluent and active local demographic?
Please don't hesitate to send an email directly to us, or call our Olde Burien office at (206) 248-2565 – we'd love to talk with you, or come meet you in person and show you the options.
Thanks for your consideration, and we look forward to helping increase your business soon.